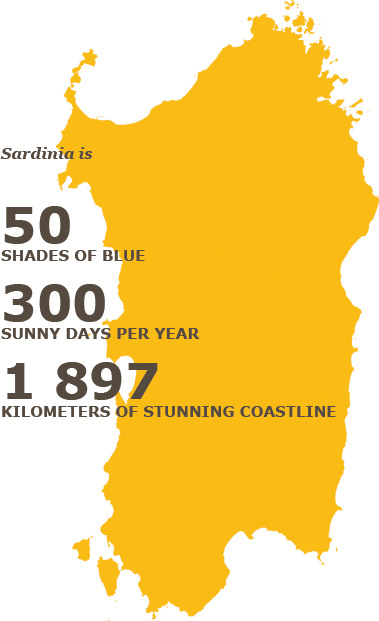 www.sardegnaturismo.it
A four season island
Attractions and activities in Sardinia are never-ending. Thousands of years of history, ancient traditions, festivals, and concerts will fill your days throughout the seasons, including winter, owing to the moderate weather conditions. Gaze at the snow-coated roof of Barbagia in winter. Witness the Holy Week and its solemn religious celebrations in spring. Let the glitters of the sea, the splendid beaches, combined with night movida or jazz festivals carry you away in summer. Lastly, when autumn creeps in with its golden fingers, surrender to its mood and take the time to discover the remains of ancient civilizations.
Accessing in Sardinia
With the recent infrastructure developments, Sardinia is now closer than ever. Several airlines offer direct flights between the three airports of Sardinia (Alghero, Olbia, Cagliari) and the major capitals of Europe. Sardinia can be accessed by sea through its thirty-two (32) marinas, which offer the warmest of welcomes and top quality services, wherever you come from. The tortuous roads might come a bit as a shock and you will sometimes travel on so-called "white" roads. But as you soak up the breathtaking views, you will soon forget these petty inconveniences.
Investing in Sardinia
Whether your decision to purchase property in Sardinia stems from the heart or the reason, it is the right decision. When you are purchasing in Sardinia you are offering yourself unforgettable holidays, in one of the most prestigious and attractive destinations of the Mediterranean Sea. In addition, you have nothing to fear regarding the value of your property, as Sardinia will always remain a popular tourist destination.
For further information on the purchasing process, click here
.
THE EXCLUSIVITY AS PARADIGM
Sardinia is an island of possibilities. As you swing between land and sea, sports and relaxation,
culture and tradition, the wine route and archaeological route, you will discover this enigmatic country, which knows no middle ways or gray areas. Earning the Sardis' trust will not be easy. It will take time, patience, and respect before this proud and tough people will accept you. But then, in the shade of
an old olive tree, around a bottle of wine, a slice of bread, and a shaving of cheese, the unseen will be revealed and secrets will be told.

« La vita in Sardegna è forse la migliore che un uomo possa augurarsi: ventiquattro mila chilometri di foreste, di campagne, di coste immerse in un mare miracoloso dovrebbero coincidere con quello che io consiglierei al buon Dio di regalarci come Paradiso ». Fabrizio De André.